Which Hand Exerciser Is Best for Your Wrists?
Wednesday, 16 August 2017 | Amy
Whether faced with a recurring wrist condition, undergoing surgery, or tending to an unexpected injury, pain pertaining to the wrist can be debilitating, and often unbearable. While a wrist support can be worn to offer temporary or intermittent respite, regularly using a hand exerciser can help keep pain and discomfort at bay.
There is a wide range of exercisers available, with some strengthening muscles and others massaging the hands. Depending on your particular condition or severity of pain, you may prefer to use one hand exerciser over another. To help you decide which one is best for you and your wrists, we've compiled a guide below to some of the ways in which different hand exercisers can help.
Mambo Max Foam Hand Grip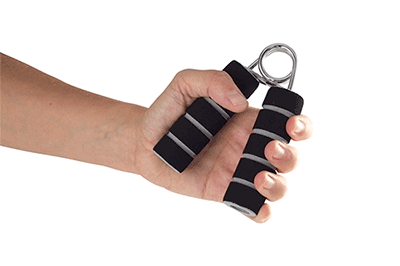 The design of the Mambo Max Foam Hand Grip may look familiar, and that's because the hand grip is generally considered to be an incredibly popular and versatile approach to strengthening hands. While it can be used for training and general hand health maintenance, it is ideal for improving weakened or reduced hand grip following an injury or operation.
Due to the simple yet effective nature of the hand grip, it requires no fiddling settings or installations, and can be used at home or on the go whenever required. It is compact in size, and therefore easy to carry around, ensuring that the hand can be exercised to relieve pain and encourage strengthening whenever required.
The Mambo Max Foam Hand Grip is straightforward to use. Simply hold the hand grip in the palm of the hand, then squeeze, before releasing the tension. It offers a gripping power of 44lb (20kg), and the squeeze-and-release action can be repeated as often as required for optimal strengthening.
Prohands Via Hand and Finger Exerciser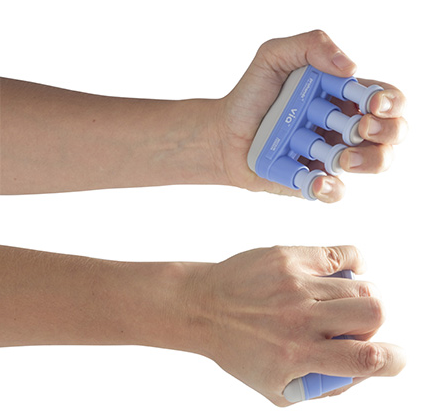 Sometimes the whole hand many not require an intense workout, particularly if an injury to the wrist has affected some fingers more than others. In such circumstances, the Prohands Via Hand and Finger Exerciser more suitable.
The Prohands Via enables entry-level exercise, and is available in a range of resistance levels to cater for ongoing rehabilitation progression. The fingers remain in control as they work the keys in turn, applying pressure to improve strength, speed, and dexterity.
In addition to providing a build-up of resistance for ongoing improvement, the Via Hand and Finger Exerciser is also both compact and comfortable to use, ensuring that exercising the wrist, hand, and fingers can be as practical and as beneficial as possible.
Mambo Max Massage Ring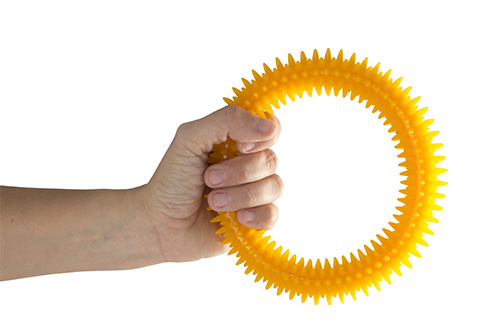 If post-operative care of the wrist dictates more gentle hand exercises to encourage healing, the Mambo Max Massage Ring may be the best approach. It is simple in design, with a ring of gentle rubber bumps coating the ring, with a wide hole in the centre for comfortable gripping.
When holding onto the ring, which can be done as softly as required, the little bumps massage the palm of the hand to relax the muscles. This will relieve any tension in the hand, while also strengthening the hand and improving dexterity.
The ring can be moved between hands, and turned around or squeezed for improving coordination and flexibility. Inexpensive and ready for immediate use, it can help restore full hand and wrist health without delay.
Whether you're looking for a hand exerciser to encourage post-operative healing, or you'd like the benefit of ongoing hand and finger exercises for continual progression, there are a wide range of hand exercisers available that can help you on your way to stronger, healthier wrists, hands, and fingers.
To view our full range of hand exercisers, follow the button below.
Do you have a question to ask or something to add? Why not leave us a comment below or find us on Facebook or Twitter.