Best Supports for Nighttime Use
Friday, 25 August 2017 | Admin
Do you feel aches and pains in your wrist that tend to come on at night? Or do you get an onset of pain first thing in the morning? Many people who suffer from wrist conditions such as arthritis, carpal tunnel syndrome (CTS), or De Quervain's syndrome usually complain of symptoms such as pain, tenderness or stiffness that worsen at night, or feel very intense when they wake up in the morning. We value a good night's sleep here at Wrist Supports, so we have put together a list of braces and supports that are suitable to wear at night and have feeling as comfortable as possible.
Wrist Pain at Night
Wrist pain is not ideal in any situation, but especially not at night when you are trying to rest. Certain conditions such as CTS, arthritis and de Quervain's syndrome are known for invoking pain in patients during the night, or cause stiffness first thing in the morning. Not only can this cause sleep disturbance, but also set a negative tone for the rest of the day because of the pain and your lack of sleep. We want to make sure you get that well-earned beauty sleep each night, so have compiled a list of some of the best nighttime wrist supports.
Vulkan AE Advanced Elastic Wrist Support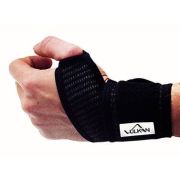 If you've recently suffered from a sprain, or have a condition such as CTS, arthritis or repetitive strain injury (RSI), the discomfort this can cause, particularly at night, can be particularly unpleasant. The Vulkan AE Advanced Elastic Wrist Support can be worn anytime during day or night to support your risk and protect yourself from pain.
This wrist support offers effective compression to help relieve and alleviate pain from mild injuries. The elastic material retains heat and stimulates blood flow to speed up the body's natural healing process, and the breathable fabric wicks away sweat to keep the skin dry and odour free.
Oppo Biomagnetic Wrist Support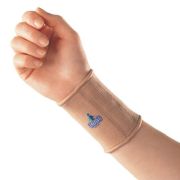 A sprained or weak wrist can be detrimental when you try to get on with your daily life, and can even prove tricky getting to sleep without experiencing pain. The unique Oppo Biomagnetic Wrist Support is an innovative product that uses magnets on acu-points along your wrist to help relieve swelling, pain and discomfort.
Acupuncture and magnetic therapy are popular alternative practices that help with pain relief, and this support combines both to alleviate pain in your wrist. The magnets in the sleeve target your acupuncture points on both sides of your wrist to offer unobtrusive and maximum effect when it comes to compression and pain relief.
Here at Wrist Supports, we have dozens of other similar products that are designed to be comfortably worn all day or during the night, depending on your needs. Click the button below to browse our wide selection and find a support that is perfect just for you.
Do you have a question or something to add? Why not leave us a comment below or find us on Facebook or Twitter.