Best Supports for Tendonitis
Thursday, 24 August 2017 | Admin
Wrist tendonitis is something that affects almost everyone at some point in their lives. It is an overuse condition that occurs due to repetitive strain or friction of the tendon. In short, it isn't very nice, and it can often get in the way of performing your day-to-day tasks or staying productive while playing sports. We want to look out for you here at Wrist Supports, so we have compiled a list of some of the best wrist braces for tendonitis.
What is Tendonitis?
Tendonitis of the wrist, also known as tenosynovitis, is a condition that is identified as inflammation of the tendons around the wrist joint. It often occurs where the tendons cross each other or pass over a bony prominence, causing irritation and swelling. With the hand and wrist being some of the most complex parts of the body, it is not uncommon for many people to experience tendonitis in that area, particularly if you participate regularly in sports.
Combating Tendonitis at Wrist Supports
Here at Wrist Supports, we know how hindering tendonitis can be in an area used as often as the wrist. Other than medication and ice therapy, wearing a splint or a wrist brace is the best way to recover from and combat tendonitis, so we've put together a small guide to some of the best supports for beating wrist tendonitis.
Procool D-Ring Wrist Splint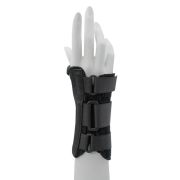 Choosing a wrist support that is comfortable for you to wear is vital, especially if you have to wear it for long periods of time during recovery. The Procool D-Ring Wrist Splint is available in two verisions, Standard and Firm, to ensure that you have the support you need while staying comfortable.
The Procool Splint is a low-profile support with a circumferential slip-on design, and features a D-ring fastening system to allow the user to apply it with one hand. It features an aluminium palmar bar that can be adjusted or removed for more tailored support, and the dorsal stockinette lining helps cushion the strap closures so that you remain comfortable at all times.
Thuasne Ligaflex Classic Open Wrist Support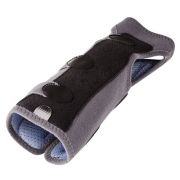 When suffering from tendonitis, even the simplest task like putting on a wrist support can exacerbate the pain and irritation. The Thuasne Ligaflex Classic Open Wrist Support fully opens up for easy fitting and removal, making it ideal for post-traumatic situation or where swelling is present.
This Open Wrist Support has an ambidextrous design that allows you to wear it on either wrist, and is available in two sizes so that you can find the perfect fit. With its adjustable design, the brace can open fully to accommodate any swelling. It is also x-ray friendly, as the stay in the palm region is radio translucent, meaning that you can remain comfortable even when you are getting a check-up.
Pro-Rheuma Wrist Thumb Brace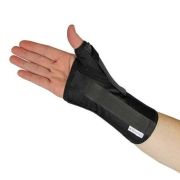 When it comes to tendonitis of the wrist or thumb, an effective support is vital in reducing pain and aiding recovery. However, it is also important to keep your hand as comfortable and mobile as possible, and the Pro-Rheuma Wrist Thumb Brace does just that.
The Wrist Thumb Brace features a palmar support that can be heat moulded by a medical professional for tailored support, and is covered by a breathable, high compression material that offers excellent comfort and support. It is an innovative wrist and thumb brace that provides great protection, and its slip-on design makes it easy to put on without exacerbating any injuries.
None of these quite tickle your fancy? Why not browse the full range of supports, wraps and braces we have available that are designed especially for wrist tendonitis. Click the button below:
Do you have any tendonitis war stories? What helped you cope? Let us know in the comments below, or chat to us on Facebook or Twitter.