Best Supports for Rheumatoid Arthritis
Wednesday, 23 August 2017 | Admin
Rheumatoid arthritis is a pretty common condition, affecting the daily lives of over 400,000 people in the UK alone. Although symptoms for rheumatoid arthritis can sometimes be sporadic, there is no doubt that, when pain sets in, it can be really uncomfortable and debilitating in how you perform your day-to-day tasks. There is no need to suffer though, as here at Wrist Supports we have plenty of solutions, from braces to wraps, that will alleviate the pain in your wrists.
What is Rheumatoid Arthritis?
When you hear the word 'arthritis', the first thing that comes to mind is usually wear and tear of the joints, which commonly occurs amongst the older population. This condition is known as osteoarthritis, which is different to what we're talking about today. Rheumatoid arthritis is an autoimmune condition, meaning that the body's immune system mistakenly starts to attack itself, paying particular attention to the joints. Rheumatoid arthritis causes joints in places like the hands and wrists to become inflamed and painful, as it slowly starts to wear them away.
What are the Best Wrist Supports for Rheumatoid Arthritis?
Living an active lifestyle by exercising regularly and eating healthily are known ways to help relieve stress and keep the joints mobile. However, here at Wrist Supports we have a wide selection of supports and braces for your wrists to keep them protected from pain, letting you get on with your daily life as usual.
Bauerfeind ManuTrain Wrist Support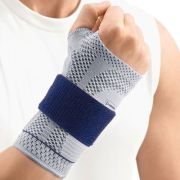 Ideal for reducing pain, the Bauerfeind ManuTrain Wrist Support is suitable for a wide range of conditions pertaining to the wrist. The comfortable and protective active support comes in six sizes, and has individually adjustable stabilisation to give more precise support.
The Bauerfeind Wrist Support features an anatomical shape that allows freedom of movement and enables easy gripping for a greater quality of life. The soft and flexible knitted fabric pads have been created to take pressure off of nerves and blood vessels, alleviating pain and maximising on comfort. This makes it perfect for arthritic users or anyone who suffers from chronic irritation in their joints, as they will feel strengthened and supported.
Vulkan Elasticated Thumb Spica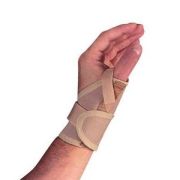 When you suffer from rheumatoid arthritis or other degenerative diseases, this can take a toll on your hands in particular, often localising the pain and weakness in the thumb joint. The Vulkan Elasticated Thumb Spica helps to relieve pain in the thumb and wrist so that you are not limited to the activities you perform.
When living with a condition that affects your hands, you want to ensure that no further damage is done, while staying comfortable and supported. The lightweight and elasticated nature of the Vulkan brace will ensure that your wrist and thumb stay supported, stabilised and strengthened as you carry on living your life as actively as possible.
BeneCare Neoprene 7" Wrist Support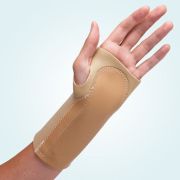 Living with the pain and discomfort is not ideal, and in particular you don't want it to get in the way of your regular routine. The BeneCare Neoprene 7" Wrist Support ensures that you are stabilised by applying gentle compression to the entire wrist.
The neoprene construction of the BeneCare Wrist Support allows heat to be retained, and eases any pain and swelling found around the joints. The metal stay within the brace keeps the wrist in slight extension to relieve stress and can be adjusted whenever necessary. The braces allows for full movement of the fingers, so that you are safe in the knowledge you will be comfortable and stabilised while performing any highly dexterous tasks.
Actimove Rhizo Forte Thumb Brace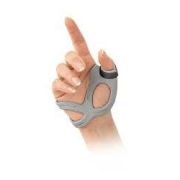 We can often take our thumbs and everything they do for us for granted, and this is particularly pertinent when living with rheumatic pain. The Actimove Rhizo Forte Thumb Brace is the ideal solution to support the thumb joint without losing mobility and functionality in the rest of the hand.
A one-of-a-kind brace, the Actimove Rhizo has a unique, low-profile design and smooth edges for extra comfort at all times. Its mouldable aluminium core provides a contoured fit to anyone who wears it, and is coated in water and dirt-repellent materials. It provides full support for the thumb joint, while reducing pain and inflammation, letting you get on with your day.
These are just some of the braces and supports we have to offer to help you ease the pain and start taking control of your rheumatoid arthritis. To take a look at our comprehsive range, click through via the button below to see our line of products for rheumatoid arthritis.
Do you have a question to ask or something to add? Why not leave us a comment below or find us on Facebook or Twitter.