Best Supports for RSI
Tuesday, 22 August 2017 | Admin
For many people, Repetitive Strain Injury (RSI) is not hard to come by. With so many jobs, hobbies and activities being mainly sedentary, requiring the repetition of the same movements over and over again, many people across the nation, and the world, experience symptoms of RSI every day. While there are many approaches to treating and preventing RSI, a wrist support is one of the most efficient and wallet-friendly ways of staying in control of this condition.
Here at Wrist Supports, we have put together a handy little guide with a selection of some of the best supports to help ease the pain or keep RSI at bay.
What is RSI?
Repetitive Strain Injury (RSI) is a general term used to describe pain felt in the muscles, nerves and tendons when they are overused. These areas can become painful or inflamed through repetition of similar movements, such as working in an assembly line, typing at a computer, or scanning items at a supermarket checkout. RSI mainly affects the limbs of the upper body, and pain can be exacerbated by stress, cold temperatures and even poor posture.
What are the Best Wrist Supports for RSI?
There are so many great wrist braces that help combat the negative effects of RSI. To help get you started and narrow down your search, here are five wrist supports we think are best suited for repetitive strain injuries.
4Dflexisport® Active Black Wrist Support
If you prefer a support that offers greater breathability and flexion control, the 4Dflexisport® Active Black Wrist Support can provide suitable immobilisation while simultaneously allowing a great range of motion, without worrying about exacerbating your injury.
Supplied in a universal size that is suitable for either wrist, this support simply hooks onto your thumb and wraps around the wrist with ease, allowing you to judge the amount of pressure you want to apply to the area. Its lightweight and discreet design is non-irritable, making it suitable for even the most sensitive skin, and is easily machine washable with the rest of your laundry.

Air X Wrist and Thumb Brace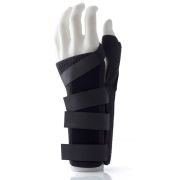 For more severe cases of RSI, proper stabilisation of the wrist and hand is required to fully support the affected area as it repairs and heals. The Air X Wrist and Thumb Brace perfectly conforms to the wrist, hand and forearm to ensure for a comfortable experience and a personalised fit for those who need to for long-term use.
An aluminium palmar bar and thumb stay features in the brace to provide excellent joint support and keep the area neutral to promote healing. The special AirX fabric works to keep moisture away from the skin, leaving it fresh and dry at all times, preventing skin maceration and allowing the skin to breathe, promoting healthy circulation.
Ultimate Performance Ultimate Wrist Wrap
If you regularly put strain on your wrists or play a lot of sports in your spare time, you can be prone to getting RSI. To reduce your chances of injury, use the Ultimate Performance Ultimate Wrist Wrap to keep chronic injury and repetitive strain injuries at bay.
The Ultimate Wrist Wrap has a one-size, universal fit, and is completely adjustable to provide an individualised fit. It is ideal for those who are susceptible to wrist injury, and is also a great aid in treating any existing discomfort or wrist conditions. The Ultimate Wrist Wrap provides firm and even support while also speeding up the healing process, and is so comfortable that it is suitable for all day use.
For further information about these wrist braces, or if you would like to view the full range of wrist supports we have available for RSI, click the button below.
Do you have a question to ask or something to add? Why not leave us a comment below or find us on Facebook or Twitter.