What is Rhizarthrosis?
Thursday, 17 August 2017 | Admin
Are you experiencing pain at the base of your thumb? Do you find it difficult to press your thumb away from the hand? Are you a woman over the age of 45? It is quite possible you are suffering from rhizarthrosis, a fairly common yet luckily mild form of arthritis that can be easily treated when diagnosed early.
To help you find out more about the condition, here at WristSupports.co.uk we have prepared a short guide on the symptoms, causes and treatment options for rhizarthrosis that will put your mind at ease.
What is Rhizarthrosis?
Rhizarthrosis, also known as osteoarthritis of the thumb, affects the joint between the fist metacarpal and the wrist bone. This joint allows the thumb to perform a range of motions, such as moving up, down or across the palm, as well as the ability to pinch.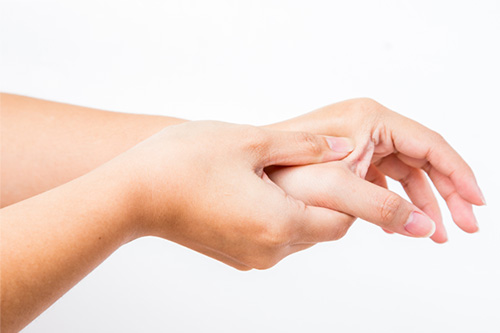 How Can I Recognise Rhizarthrosis?
As with virtually all wrist and hand conditions, the main symptom is pain, usually triggered by mechanical activity and relieved by rest. Some of the more specific symptoms of Rhizarthrosis include:
Pain at the base of the thumb
Difficulty performing certain tasks, such as opening jars, turning a key, etc.
Tenderness when pressing on the basal joint of the thumb
General stiffness in the thumb and difficulty pressing the thumb away from the hand
A bump or deformation of the thumb that may appear in advanced cases
What Causes This Condition?
Rhizarthrosis is a very common condition that can develop at any age, but most frequently affects women in the perimenopausal period, after the age of 45. The exact causes for its occurrence are unknown, though research suggests that genetics and generalised joint laxity may influence the development of this specific type of arthritis.
Where Do I Go from Here?
As this type of arthritis is fairly harmless, it is often treated with non-drug measures, such as:
Resting and avoiding all activities that cause pain
Maintaining joint mobility with hand exercises
Using a resting wrist splint
In certain advanced cases drugs, such as analgesics, anti-inflammatory medication or steroid injections and viscosuplementation, are used. Surgery is usually considered as a last resort and is commonly not necessary.
As the vast majority of cases can be easily treated by wearing a wrist splint, don't forget to check out our broad range of Wrist Supports for Rhizarthrosis.
Do you have a question to ask or something to add? Why not leave us a comment below or find us on Facebook or Twitter.