What is Repetitive Strain Injury?
Monday, 21 August 2017 | Eugene
Our wrists are crucial to most of the tasks we undertake on a daily basis, so it's no wonder that they can frequently become injured. Often, this injury isn't due to any sort of impact, trauma or over-extension, but rather the normal wear and tear of using a joint so frequently. When this occurs, it can be one of the most difficult wrist conditions to treat, as it often involves a complete overhaul of your day-to-day life, which can constitute a major interruption to your work and leisure lives. Read on to learn more about the symptoms and causes of Repetitive Strain Injury, and what you can do about it.
What is Repetitive Strain Injury?
Repetitive Strain Injury, commonly known simply as RSI, is a descriptive term for an overuse injury. It is also sometimes known as Occupational Overuse Syndrome (OOS), which is a specific term for work-related RSI. Repeated use of the same muscles and ligaments can cause inflammation and subsequent damage to the soft tissues (muscles, nerves and tendons) of the wrist, causing pain, a loss of motion and general discomfort.
To learn more about Repetitive Strain Injury, check out our RSI Infographic.
Where is Repetitive Strain Injury Found?
RSI can occur all over the body, but is most commonly found in the upper limbs and torso. In particular, the condition affects the forearms and elbows, the neck and shoulders, and, most commonly, the wrists and hands. Many other conditions can be caused by RSI, including trigger finger, tennis elbow, arthritis, and carpal tunnel syndrome, or more general pain syndromes such as cervicobrachial pain syndrome and chronic pain syndrome.
What Causes Repetitive Strain Injury?
The fact that RSI shows itself in particular areas of the body is no coincidence. These areas are frequently used in common office jobs, and can often be subject to long periods of strain due to incorrect posture and long periods without movement or stretching. Some of the most common factors that cause RSI include:
Repeated use of the arms for long periods
Working with incorrectly positioned equipment
Working at a pace that is too fast
A lack of recovery breaks
Holding muscles and limbs in one position for too long
Lack of safety training regarding equipment use
A lack of variety in the type of work being done
Working in overly cold conditions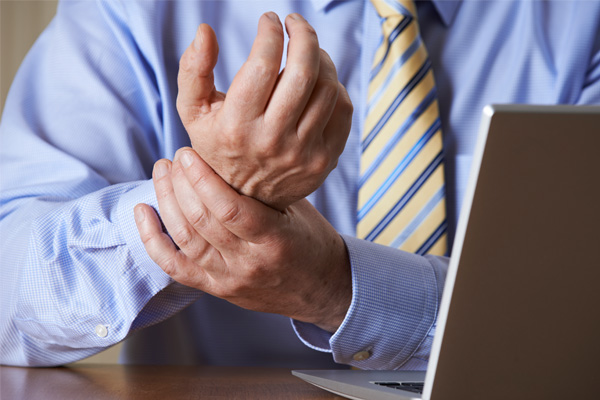 Office worker suffering from Repetitive Strain Injury
Symptoms of Repetitive Strain Injury
While Repetitive Strain Injury of the wrist is often diagnosed in office workers, it is also common in other sectors such as construction or assembly line work. If you are currently involved in any of these jobs, it's important to be on the lookout for symptoms of RSI in order to catch it before any real damage is done. Some of the most common symptoms of RSI include:
Pain, aching or tenderness of the wrist
Stiffness or loss of range of motion
Throbbing or intermittent pain
Tingling or numbness in the hands or wrist
Weakness of grip or loss of dexterity
Common cramps in the wrists and hands
Tremors or clumsiness during tasks
Chronically cold hands, particularly the fingertips
These symptoms will often first show themselves in minor forms, and then gradually grow in severity over time. If you've noticed some of these symptoms, we recommend you contact a physician for diagnosis before they worsen.
Treatment of Repetitive Strain Injury
Since Repetitive Strain Injury is usually caused by a task that you do every day, treatment is usually fairly straightforward. The first step is to modify your activities as much as possible, allowing you to take the strain off of your overworked areas. If you are unable to stop the activity completely, try introducing breaks, or find another way to complete the same task with better posture, or more varied movement. Anti-inflammatory medications can also help to reduce pain and swelling in the short-term, but they should be combined with some sort of activity modification.
Braces and Supports for Repetitive Strain Injury
If none of these treatments are suitable, braces and supports can be used to help take the pressure off of your wrists. At WristSupports.co.uk, we have a wide range of supports, splints and braces to provide some relief to your painful or ailing joints. To take a look at our range of supports for Repetitive Strain Injury, click the yellow button below.
Do you have a question to ask or something to add? Why not leave us a comment below or find us on Facebook or Twitter.