Best Wrist Supports for Tennis
Thursday, 24 August 2017 | Admin
There is no game like tennis, but with such high impact and shock absorbed by the wrists, injuries to the hands and that area of the body are not uncommon. Here at Wrist Supports, we don't want pain and irritation to get in the way of your serving that perfect forehand, so we have compiled a list of some of the best supports to enhance your tennis games.
How Does Tennis Affect the Wrist?
Wrist injuries in tennis, even with professional players, are very common due to the repetitive movements and the impact the wrist absorbs from hitting tennis balls at high speeds. The tendons around the wrist and forearm can be subject to overuse injuries which causes them to inflame and become extremely uncomfortable. If you're unlucky enough to experience a fall, you can even risk fracturing bones and tearing tendons.
Find out more about tennis' impact on the wrist with this useful infographic.
Supports for Tennis
As many as five injuries per 1,000 hours of play can occur during tennis practise, which can seriously affect performance for training and future games. We at Wrist Supports want you to see as little downtime as possible by fully supporting and protecting your wrist from injury, so that you can have a fair chance of being the likes of Nadal and Federer on the courts. Here are five supports we have picked out that are suitable to use during tennis practice.
4Dflexisport® Active Lime Wrist Support
For ambidextrous support that offers optimal finger movement and flexion, the 4Dflexisport® Active Lime Wrist Support provides the highest level of comfort without having to compromise on protection and support.
Many wrist braces feature a metal stay to help keep the wrist immobilised, however this can be a hazard during a tennis match, especially if you fall onto your wrist. The 4Dflexisport® Active has a stay-less design to ensure your safety, while still offering strong tension control. It has been created to align your wrist with the thumb joint so that it is kept in a natural position during tennis play, allowing you to serve that killer forehand without any strain.

LP Elasticated Wrist Wrap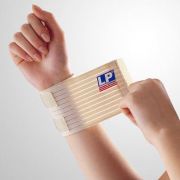 If you've recently suffered an injury or are particularly prone to having weak wrists, you want to prevent any further damage as much as possible. The LP Elasticated Wrist Wrap is made from a unique 'space age' material that combines the strength of elastic with transverse nylon.
The unique material of the LP Wrap provides essential support and compression to the wrist while playing tennis, without interfering with the game. The Wrap-around design allow for full digit movement and does not restrict the thumb, ensuring you can get the grip on your racket just right. The compression is adjustable to suit each user, and is available in one universal size for an easy fit.
Don't see anything you like? Don't worry, we have plenty more supports that specialise in protecting your wrist from tennis injuries; just click the link below!
Do you wear a wrist brace when playing tennis? Tell us your story in the comments below, or reach out to us onFacebook or Twitter.