Best Supports for De Quervain's Syndrome
Tuesday, 22 August 2017 | Eugene
It's no secret that repetitive motions can cause harm to our bodies, and most of us won't realise that we're doing damage until it's too late. Common activities that are ever-present in our daily lives, such as texting, typing or playing video games, all use the same muscles, ligaments and tendons over and over, so it's not surprising that these areas can wear over time. One condition that can arise from these movements, and one that we stock plenty of wrist supports for, is De Quervain's Syndrome.
What is De Quervain's Syndrome?
A frequently developed condition, De Quervain's is also known as BlackBerry thumb, texting thumb, gamer's thumb, and many other names. It is a type of repetitive strain injury that affects a range of different types of people, from office workers, to hairdressers, to those who work in manual labour jobs. It is actually a form of tenosynovitis, which causes the synovial sheaths through which the tendons run to begin to thicken.
This can cause a wide range of symptoms, ranging from pain and stiffness to spasms and swelling. While the causes of De Quervain's are not entirely known, there is plenty of evidence surmounting that it is most common among those in jobs that cause repetitive motions, most commonly of the thumb. To learn more about De Quervain's Syndrome, along with its causes, treatments and symptoms, visit our blog by clicking the link below.
Best Wrist Supports for De Quervain's Syndrome
Here at WristSupports.co.uk, we stock a range of wrist supports, splints and braces to help battle your De Quervain's Syndrome. These should ideally be combined with wrist elevation, icing and the administration of anti-inflammatory drugs to give you the best chance of a speedy and healthy recovery.
We've taken the liberty of selecting some of our favourite Wrist Supports for De Quervain's Syndrome, which we'll lay out for you below.
Ossur Form Fit Wrist Brace with Thumb Spica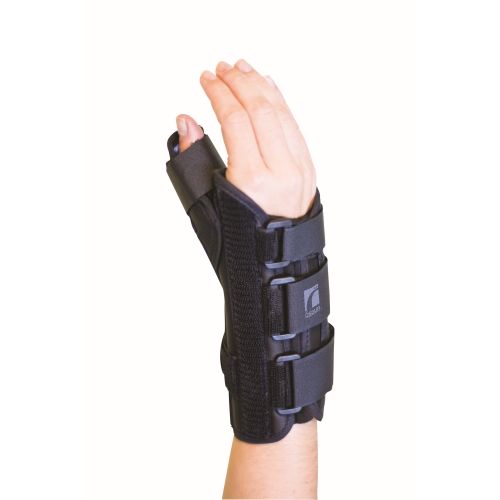 When you're dealing with De Quervain's, especially when it causes a great deal of disturbance to your thumb, immobilisation of the wrist and thumb is key. The Ossur Form Fit Wrist Brace With Thumb Spica is designed for this purpose, keeping both the wrist and thumb in place so that your tendons and ligaments can rest.
This brace can both relieve pain and shorten your recovery time, and can also be used to treat a range of other ailments, from carpal tunnel syndrome to a broken thumb. Its 3D form fit moulding technology ensures comfort and a proper fit, and the design is customisable for personalised support. It features varied padding in different areas, and is considered an exceptionally reliable support for those who require both wrist and thumb immobilisation.
Aircast A2 Wrist Brace with Thumb Spica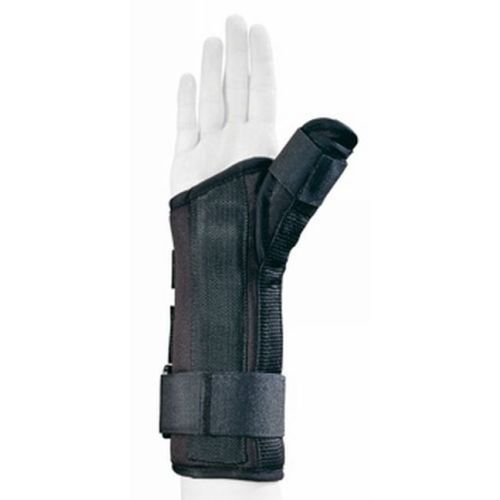 Since every instance of De Quervain's is different, it's important to be able to provide adjustable support based on how much you need. This makes the Aircast A2 Wrist Brace with Thumb Spica perfect for those who may experience intermittent swelling or pain, as the Brace can be tightened at will to deal with different symptoms. It is designed to stabilise and control the wrist and thumb, preventing any movements that may cause your condition to worsen.
Since this wrist brace may be worn during your daily activities, it's made to be as comfortable as possible. With lightweight nylon foam and a contoured shape, this brace provides comfort without compromising on the level of support it supplies exactly where you need it. With adjustable support, and removable stabilisers, this support provides peace of mind that can keep up with you all day long.

Bioskin Thumb Spica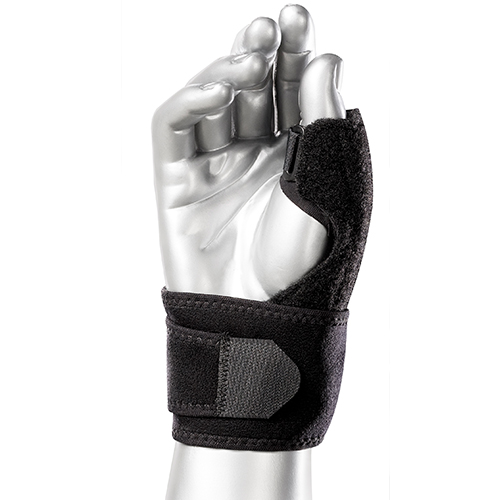 While the previous two supports focus heavily on the wrist, many sufferers of De Quervain's Syndrome find most of their symptoms to centre around the thumb. The Bioskin Thumb Spica is made with these people in mind, as it provides only mild support to the wrist while supplying a great deal of support to the thumb. This means that digit movement is unrestricted, while the thumb is fully protected.
Like all Bioskin supports, this Thumb Spica is made with soft, breathable materials, ensuring that no irritation arises after a long period of wear. It is extra soft against your skin, and contoured to your wrist so as not to catch any part of you during movement. It also applies constant compression, which helps to encourage blood flow and speed up the recovery of your tendons and sheaths.
For further information about these Wrist Supports for De Quervain's Syndrome, or to view our entire range of braces, supports and splints for all stages of recovery, click the yellow button below.
Do you have a question to ask or something to add? Why not leave us a comment below or find us on Facebook or Twitter.